Claude Monet is reported to have once said, "I perhaps owe having become a painter to flowers." It seems only natural, then, that something so beautiful, something so powerful, should be featured as a centerpiece on so many cakes! Today, we'll turn our attention to gum paste (or fondant) roses.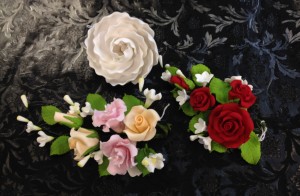 We have a large assortment of pre-made gum paste flowers, including single roses and rose sprays. Add an extra elegant touch to your next cake with no hassle whatsoever!
If you'd rather try your hand at making your own roses, we have rose cutters in a variety of sizes – from 50 mm up to 110 mm. Our JEM brand cutters are incredibly easy to use and create beautiful flowers anyone would be thrilled to receive on a cake or cupcake!

 To give your roses a more natural look, brush on a bit of petal dust in a complementary color as your flowers are drying. Start with a heavier coat of petal dust in the middle of the bud, then lightly brush the edges of your roses to add depth to your flowers.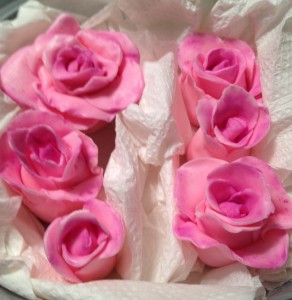 For a plethora of tips and step-by-step video tutorials, head on over to YouTube and check out Shawna McGreevy or CakePlayGround!