If you love baking and decorating, then you've come to the right place – because we do too! Welcome to the online home of My Son's Cake and Candy Supply! We are pleased to bring you the highest quality ingredients and supplies for your cake decorating and candy making needs – and now, we're even more pleased to introduce you to our blog! Through this blog, we'll share with you about new products in the store, decorating ideas, and upcoming classes and demos. We'll also give you a chance to find out a little more about our staff and instructors!
To get your creative juices flowing, let's take a look at some ideas to help you host the most spectacular summer party ever! My Son's stocks plenty of supplies to make your tropical dreams a reality.
 Perhaps you'd like to start with a few homemade chocolates – we have a variety of candy molds in luau-inspired designs, including sea shells, palm trees, flip flops, and sunglasses. You can even add one of our exciting LorAnn flavor oils to give your candy an exotic twist – such as coconut, key lime, mango, and pina colada (just to name a few)! A light dusting of our food-safe Empress Pearl dust will give your chocolates an irresistible shimmer!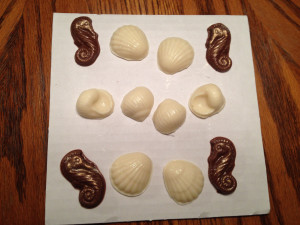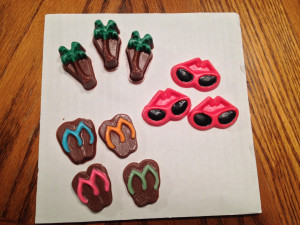 Next, how about renting one of our several tropical themed cake pans, including a pineapple, a palm tree, and a coconut. (Okay, the coconut is actually a sports ball…but it's all in the decorating, right?)
If you're looking to doctor up a more traditional cake, our hand-made royal icing petunias provide a beautiful Hawaiian-inspired feel. We also have several cupcake picks and cake topper sets that can help you create a relaxing beach scene to top any cake!
To provide a special twist for your cake, try adding a delicious coconut, key lime, or (back by popular demand!) pineapple ready-made cake filling!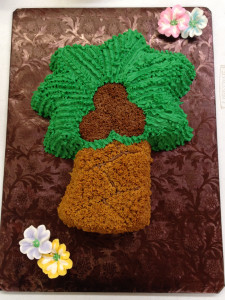 If you're not in the mood for a cake (or if you'd just like to add a bit more sugary goodness to your lineup), perhaps you'd like to give cookies a try – flip flop cookies, at that! Using our decorator's buttercream (made in-store), Americolor icing colors, piping tips, and royal icing drop flowers, you can turn perfectly ordinary Nutter Butter cookies into true masterpieces! (Or start from scratch with a flip flop cookie cutter and your favorite recipe!)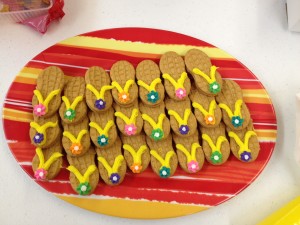 Looking to make a splash at a pool party? You might be interested in creating some beach ball goodies. Cupcakes look great with a multicolored beach ball-style swirl and our sports ball pan can be used to create a one-of-a-kind beach ball treat!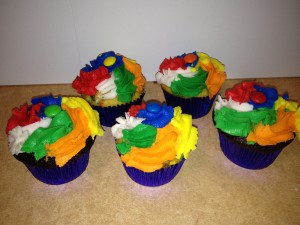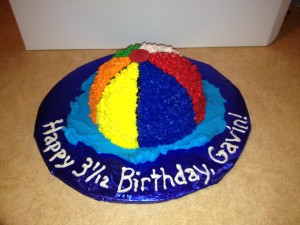 If you have any luau or pool party ideas you'd like to share with us – or if you have any questions or are looking for suggestions for your own summer event – feel free to give us a call at (636) 279-3729 or send us an email at [email protected]!