Cake Decorations & Supplies in St. Louis: Contact Us to Learn More
At My Son's Cake and Candy Supply, we want to be more than just a store from which you buy bakery supplies and candy making supplies. We aim to build relationships with our clients and share our expertise. Aside from cake decorating classes, we share our knowledge anytime you visit and chat with our staff. This is why we encourage people to contact us or stop by. We would be happy to answer your questions regarding cake decorations, as well as point you in the right direction when it comes to finding the ingredients you need, tools you would like to use, or any other product related inquiries.
We take pride in being a source of expertise for our customers, and it is something we have been doing since 1991. Whether you are looking for difficult to find cake decorations, cake pans, candy making supplies, and more, we are here to help!
My Son's Cake and Candy Supply
117 Main Street
St. Peters, MO 63376
Get Directions
Phone: 636-279-3729
Email: [email protected]

Hours:

Tuesday to Thursday – 9:30 a.m. to 7:00 p.m.
Friday – 9:30 a.m. to 5:00 p.m.
Saturday – 9:30 a.m. to 4:30 p.m.
Closed on Sunday and Monday
To get in touch with us about your needs for cake decorations or to see if we supply a particular product for which you are looking, contact us or come in to our St. Louis store today.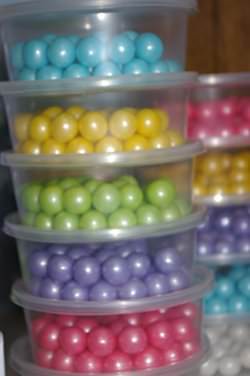 Contact Us for Expert Advice on Cake Decoration & More
With a wide variety of information about cake, cupcake, and candy making available online, these days it is easier than ever to learn about cake decorations, ingredients, and equipment. However, online research can have its limits. Sometimes, the most important step is to get professional face to face advice and a hands on look at the tools or ingredients.
It is one thing to see an ingredient on a website. It is a whole different thing to have it in front of you, where you can smell its scent, feel its texture with your hand and taste its flavor. There are plenty of online videos showing you everything from basic to advanced techniques on cake decorations and the like. However, nothing compares to having someone demonstrate in front of you, and provide you with personalized guidance as you try out your own cake decorations.
With My Son's Cake and Candy Supply, we welcome your questions, whether they are with regard to cake decorations or candy making. Whether you are an experienced professional or a hobbyist who likes to make cupcakes at home, you will be welcomed in our store, your questions will be answered, and your needs will be met.
Find a Complete Selection of Cake Decorations, Candy Making Supplies, and More
To see our complete selection of cake decorations, candy making supplies, and other products available, come by our St. Peters store today. With a wide variety of products available, we can supply even those difficult to find ingredients and tools. Contact us today to learn more!