Meeting Your Candy Flavoring & Candy Making Needs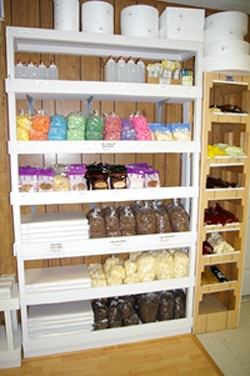 Whether you make candy as a hobby or you own a bakery or shop selling custom made sweets, we at the My Son's Cake and Candy Supply can provide you with a wide array of candy flavoring ingredients and candy making supplies to meet all of your needs. Some of the items we sell at our St. Louis store include:
Candy Flavoring
Candy Molds
Sucker Sticks
Candy Packaging Supplies
If you have any questions about our candy flavoring or any of the other candy making supplies we sell, contact us via our Contact Page or come into our store today. As candy making experts, we would be happy to help you with your candy making, cake decorations, and other baking needs.
Candy Flavoring: A Plethora of Choices
We understand that to make the best candies, you need the best ingredients and supplies. Therefore, we sell some of the best flavorings available. Our selection includes many different kinds of flavoring, such as:
LorAnn Flavor Oils – These candy flavorings use ingredients that are gluten free and many of these are Kosher certified as well.
LorAnn Super Strength Flavors – These flavorings are highly concentrated, and can be used for hard candy as well as other sweets.
LorAnn Naturals – Available in lower concentrations and milder flavors, these flavorings be used for hard candy and sweets.
Dry Fondant – This product can be used to prepare candy centers or fillings including the filling for chocolate covered cherries.
In addition to candy flavorings, our store also sells Peter's Confectionary coating in several flavors; milk chocolate, semi-sweet and white ice cap. Peter's Confectionery Coating can be used with candy molds to create chocolate candy with a rich flavor. The white ice cap version of this coating is easily colorable, so your candy comes out just the way you want. If you prefer to purchase pre-tinted confectionery coating we offer a rainbow of color choices. We also offer Peter's Caramel, which can be used for sweets that are relatively soft. It can be used to make truffles, turtles, chocolates with caramel filling, and other candies.
More than Just Candy Flavoring: Other Candy Making Products We Supply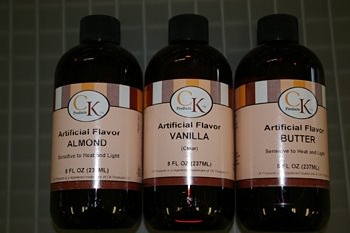 Candy Molds: Aside from candy flavorings, we also offer a variety of additional candy making supplies. For example, we sell thousands of different candy molds, which can be used to make chocolate or hard candy. If you have a particular shape in mind, we can help you find the right mold. We also offer candy molds made of silicone. These are more flexible than plastic molds, and many of them are heat resistant as well.
Sucker Sticks: In our St. Peters store, we also carry sucker sticks. Also known as lollipop sticks, these come in various lengths and are made of various materials. Some are made of paper, which can be used for hard candy as well as chocolates. Other sticks are made of plastic and come in many colors.
Candy Packaging: In addition to candy flavoring, molds, and sticks, we also offer candy packaging materials. Buying the right packaging is important if you want to make sure that your candy is preserved properly and well displayed. Our packaging materials include cello and polypropylene bags, which come in stripes or other patterns as well as clear. These bags will help to keep your candies from coming into contact with moisture and losing their scent and texture over time. Our packaging products also include foil for wrapping your hard candy.
Learn More About our Candy Flavoring & Candy Making Supplies
If you would like to know more about our candy flavoring products, as well as the other items mentioned here, please contact us through our Contact Page or come in to our store today.