Buy Cupcake Decorations & More in St. Louis
A delicious cupcake can be more than just a tasty, snack-sized dessert. Beautiful cupcake decorations transform cupcakes into edible works of art that can easily become the centerpiece of any party or event.
At My Son's Cake and Candy Supply, we offer our customers the finest ingredients and tools so that they can create the highest quality cupcakes. We offer a huge selection of cupcake decorations and bakery supplies for both professionals and individuals, including:
Sugar Flowers
Layons
Sprinkles
Nonpareils
Quinns
Jimmies

Sanding Sugar
Crystal Sugar
Royal Icing
Candy Beads
Sugar Pearls
Cupcake Liners, Stands and Carriers
If you have been searching for a wide variety of the highest quality cupcake decorations, available in the St. Louis area, contact us or come in to our store today! With a wide selection of products available, we can help with all of your cupcake and cake decoration needs.
A Complete Selection of the Best Cupcake Decorations, Packaging, & More
We offer a wide selection of ingredients and items, which can be used to for cupcake decorations. Our decorations include things like edible cupcake decorations as well as decorative packaging. Whether they are used to add color, depth, and texture to your creations or they are intended as a finishing touch for your special treats, our cupcake decorations can be just what you need. Our complete selection of decorations includes: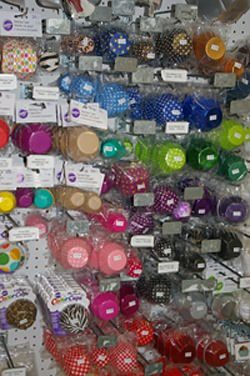 Sugar Flowers: These are cupcake decorations that come in various sizes and colors. They are made to look like specific varieties of flowers, such as daisies, roses, sunflowers, and more
Sugar Layons: These decorations are made of sugar and can be created in all sorts of shapes or designs. For example, layons can look like balloons, hearts, snowflakes, music notes, as well as other festive designs for Holidays such as Halloween or Christmas.
Sprinkles: Also known as quinns, these are tiny, edible cupcake decorations. They can come in different shapes, such as stars, bears, butterflies, hearts, and much more. They add color and texture to your cupcakes.
Jimmies: These cupcake decorations are similar to sprinkles except that they generally come in an oblong or elongated shape.
Nonpareils: These decorations are also similar to sprinkles except that they come in the form of many tiny balls. They can be used to add color to any cupcakes.
Sanding Sugars: Sanding sugars come in a variety of colors, including gold, orange, blue, black, silver, and more. One of the characteristics of these cupcake decorations is that they are somewhat reflective or shiny, which can help make a cupcake sparkle and offer an elegant look.
Crystal Sugar: This sugar has some similarities with sanding sugar, in that it comes in different colors and it can provide sparkle to a cupcake. The main difference is that crystal sugar grains are larger than those of sanding sugar. This has an effect on the overall texture of the treated surface and its reflective quality.
Royal Icing: This icing is commonly used to make decorations for cupcakes. It comes in a smooth white, but color can also be added to it.
Candy Beads & Pearls: These cupcake decorations can be used to add color, polish, or texture to a cupcake. They come in a wide variety of colors and metallic finishes and add crunch to a cupcake.
Cupcake Liners, Stands, and Carriers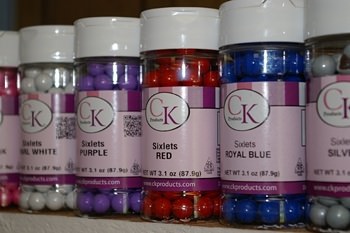 In addition to edible cupcake decorations that you can sprinkle, place, or spread, we also offer a variety of items to help you display and transport your cupcakes more conveniently and more securely.
For example, we sell cupcake liners in a large range of designs and colors. We also offer cupcake stands, which provide a base for you to display your creations. These range from simple one level stands to multi-tiered stands that have three, four, or even more layers. They come in different shapes and colors as well, to best show off your creations.
We can also provide many kinds of cupcake carriers. These can handle standard, jumbo, and mini cupcakes. Different products have different capacities, allowing you to carry various numbers of cupcakes safely.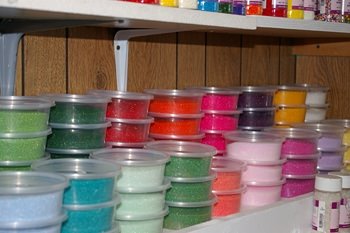 See Our Complete Selection of Cupcake Decorations
To see our complete selection of cupcake decorations or if you are looking for a certain item in particular, contact us or come in to our St. Peters store today. As a leading cake, candy, and cupcake supply store serving the St. Louis area, we can provide all of the cupcake decorations, tools, and supplies you need.